Wine Varietals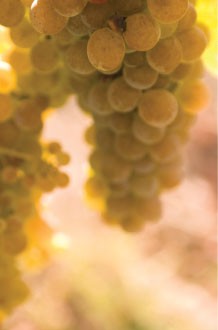 The Napa Valley's rare diversity of microclimates is ideal for growing fine wine grapes. While Cabernet and Chardonnay are the most widely planted wine grapes, the Valley holds many surprises for wine lovers looking for varieties off the beaten path.
Cabernet Sauvignon is the acknowledged "king" of red grapes in The Napa Valley. Some Napa Valley Cabernet vines from the 19th century are still producing, but most were replanted in the last 20 years. Cabernet Sauvignon is a complex grape; its character can emerge as black currants, green olives, herbs, bell peppers or combinations of these with mint and leather. These wines age beautifully. When young they are best matched with robust red meat dishes; older Cabernets are superb accompaniments to roasts and steaks, and also complement many cheeses.
Chardonnay is one of the most widely planted grape varieties in The Napa Valley. In France, the great white Burgundies are made from the Chardonnay grape and The Napa Valley labels have repeatedly won wine-tasting competitions against them, even in France! Napa Valley wineries make several types of Chardonnay, ranging from fresh, crisp wines to rich, complex wines with layers of flavors. With such a wide range of styles, Napa Valley Chardonnays accompany a variety of dishes well, from simply-prepared seafood to lighter red meats.
Merlot has long been available in The Napa Valley. Traditionally used as a blending wine, Merlot gained popularity on its own in the early 1970s. Wines made from Merlot show lovely cherry-like aromas with hints of their sibling Cabernet's herbaceousness. Because Merlot's tannins are softer than those found in Cabernet, the wines are drinkable at an earlier age than most Cabernets. At the same time, Merlots reward aging by gaining finesse and complexity much as Cabernets do. Serve Merlot with any dish that calls for Cabernet or try it with lighter meats such as pork or veal.
Pinot Noir has been called the fickle grape variety because it makes some of the world's best wines (Burgundian red) but is also one of the most difficult grapes both to grow and vinify. In France, these wines are exceptional only a few years in a decade. In California it has taken decades to make truly great Pinot Noir, and much progress has been made in the last eight to 10 years. Pinot Noir is less tannic and has less pigment than Cabernet and Merlot, so the wines are somewhat lighter. They can be very drinkable at two to five years of age and the best will improve for several years after that.
Sangiovese is an Italian varietal that has gone from cult status to full-blown success in the '90s. The Napa Valley produces Sangioveses that are often ready to enjoy upon release. With hints of cherries, black tea and spice, these wines enhance a wide variety of foods. Certainly with an array of creamy dishes and cheeses, mushrooms and game, this wine says mangia! In the mouth, Sangiovese is usually lighter than Cabernet yet more full-bodied than its French cousins such as Gamay, and can be as comfortable at a well-set table as at a picnic.
Sauvignon Blanc grapes make wines that appear under two names: Sauvignon Blanc and Fumé Blanc (a regional French nickname is "blanc Fumé"). These wines have grown increasingly popular as they have a distinctive character, often described as fruity with a touch of herbaceousness, and very good acidity. As with Chardonnay, you will find a range of styles - those that are crisp and "grassy" and others that have a ripe pineapple richness augmented by an oak bouquet. Because of their acidity, Sauvignon Blanc and Fumé Blanc are very enjoyable with shellfish and seafood.
Zinfandel, one of California's most versatile and friendly grape varieties, was the mainstay of 19th-century winemaking. Much of the world's Zinfandel acreage is planted in The Napa Valley. This varietal is vinified as a light, easy-drinking red and as a heavier, richly flavored version that rewards bottle aging, as well as a white or "blush" wine. With such a range of wine types, there is a Zinfandel for just about every wine enthusiast and for every imaginable food.
Rhone Varietals, chiefly Syrah among the reds and Viognier among whites, and Italian Varietals, chief among them, Sangiovese, as well as Barbera and Dolcetto, are increasingly popular.