August 1, 2018 |
90 Plus Wine Club

Festival Napa Valley's 2018 summer season took place July 20–29.
It was founded in 2006 to enrich the vitality of the community and making the arts accessible to all. Blending the beauty and bounty of Napa Valley with the very finest performing arts, the festival pairs world-class performances with culinary and wine pursuits staged in iconic wine country settings. More than 200 artists, wineries, resorts, theaters, restaurants and vintners participate each year. Each year, over 6,000 tickets are distributed free to seniors, veterans and families. The festival's summer arts education programs include the tuition-free Blackburn Music Academy for 80 pre-professional musicians from around the world, free Arts for All Camps for 500 students from the Boys & Girls Club of Napa Valley, and sponsorship of Music Connection's Summer Strings and Band camps for students.

Long-time supporters are the Copelands of Bouchaine Vineyards (90 PWC Partner). They sponsor The Bouchaine Young Artist Series which presents three admission-free concerts featuring classical stars of tomorrow. We had the pleasure of attending one of concerts by Sophia Bacelar on July 24, at the Performing Arts Center at Napa Valley College.
Sophia Bacelar at Darioush Winery on July 19, 2018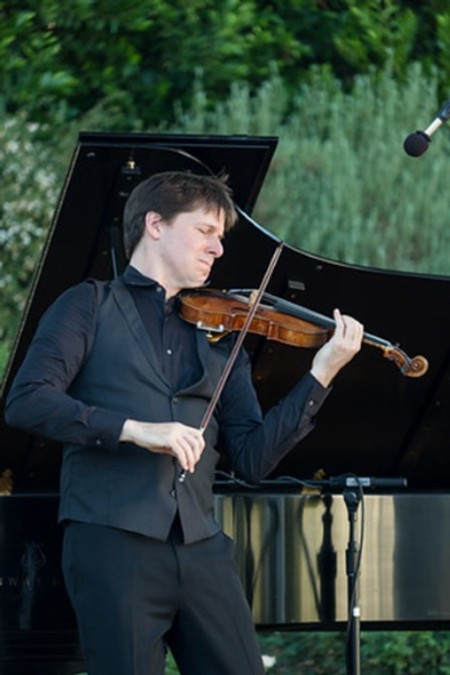 Joshua Bell returned to perform the beautiful score he recorded for the Academy Award-winning 1998 film, The Red Violin, performing at Solage Resort on July 23, 2018.
Vintners Luncheons
Lunch was hosted by St. Supéry Winery, CEO Emma Swain and created by estate chef Tod Kawachi, whose fresh farm-to-table fare is inspired by St. Supéry's earth-first ethos.